Pepperoni Pizza
Enjoy pepperoni perfection packed inside a pocket of bready goodness. Freshly baked from scratch with premium artisan bread and 100% real cheese, this handheld heavenly snack will turn any room into a pizzeria.
100% real cheese & home-style fillings
Freshly baked, premium artisan bread
Made from scratch quality
A no-mess, no-stress convenient solution
Easy prep, easy serve, easy enjoyment
Find a Store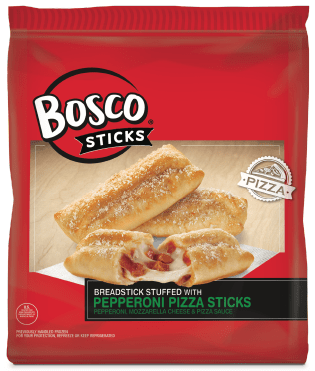 Available in these Sizes
8 sticks
Retail Bag
Serving size: 1 link
Servings Per Container: 8
Amount Per Serving
Daily Value %
Calories 130
Calories from fat
Cooking Instructions
Oven
Preheat the oven to 350ºF.
Place the wrapped Bosco Stick on a baking sheet.
For a crisper crust open one end of wrapper before baking.
THAWED: 9-10 minutes. FROZEN: 16-17 minutes.
Let stand for 2 minutes before serving.
Caution: Filling may be hot!
Microwave
Open one end of wrapper.
Microwave on high. THAWED: 25 seconds. Frozen: 45 seconds.
Let stand 2 minutes before serving.
Caution: Filling may be hot!

Like This Flavor? Meet its Cousin.
Looking for Food Service?
Check out all that our food service has to offer. Head over to our website for more.
Go to Food Service website